Mnemosyne Atlas 7

Tipologie di preformazioni antiche 

4. Pathos del vincitore
Espressioni dell'atteggiamento vittorioso nell'arte imperiale romana (e poi napoleonica): formule patetiche ('travolgere cavalcando'; 'afferrare per la testa'; 'sottomissione'); figure alate (Nikai in scene di incoronazione e apoteosi); celebrazione ufficiale (la tipologia dell'arco di trionfo; l'apoteosi imperiale: incoronazione, carro solare e elevazione sullo scudo).
Types of ancient pre-coinages
4. Pathos of the victor
Expressions of the posture of the victor in Roman imperial art (and later in Napoleonic art): formulae of emotions ('horse-rider trampling the enemy'; 'grasping the head'; 'submission'); winged creatures (Nikai in coronation and apotheosis scenes); official celebrations (the triumphal arch; imperial apotheosis: coronation, Solar chariot, and the ritual raising on shields.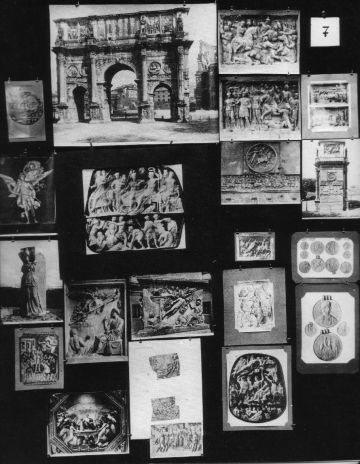 Antike Vorprägungen
Siegerpathos. Römischer Triumph. Triumphbogen. Nike. Apotheose (geglückte Auffahrt). Kaiser als Gott. Beute (Gemma Augustea) Schilderhebung, Apotheose als Schilderhebung bei Napoleon. Überreiten. Krönen. Auffahrender Wagen als Sonnensymbol. Unterwerfung (Provinz). Griff nach d. Kopf.
Preconiazioni antiche
Pathos del vincitore. Trionfo romano. Arco di trionfo. Nike. Apoteosi (ascensione riuscita). Imperatore come dio. Preda (Gemma Augustea). Elevazione sugli scudi, apoteosi come elevazione sugli scudi in Napoleone. Travolgere cavalcando. Incoronare. Carro in ascesa come simbolo solare. Sottomissione (provincia). Afferrare per la testa.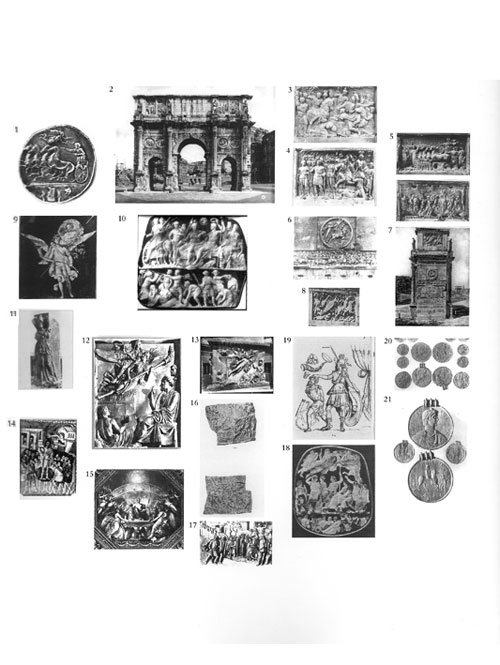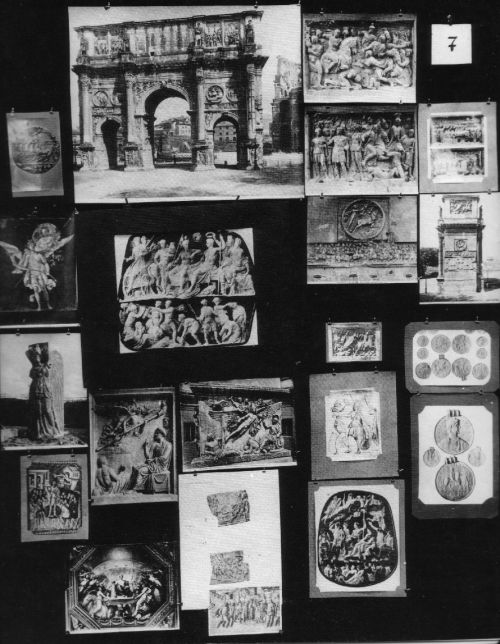 clicca sul pannello per ingrandire i dettagli
click on the plate to enlarge details