Mnemosyne Atlas 23
"E quindi uscimmo a riveder le stelle": cosmo e destino a Padova e nella Divina Commedia
Dalle pagine miniate della tradizione arabo-meridionale, gli dèi planetari approdano al grande 'libro' astrologico del Salone dei Mesi di Padova. Una "divina commedia" in cui le sfere celesti, legate alle arti e alle inclinazioni dell'uomo, condizionano come demoni astrali i propri 'figli' (rappresentazione dei mestieri).
"And thence we came forth to see again the stars": cosmos and destiny in Padua and in the Divine Comedy
From the illuminated pages of the southern Arabic tradition, planetary gods reach the great astrological frescoed 'book' of the 'Hall of the Months' in Palazzo della Ragione in Padua. A 'divine comedy' in which the celestial spheres, linked to man's inclinations, influence their 'children' (representing crafts) in the guise of astral daemons.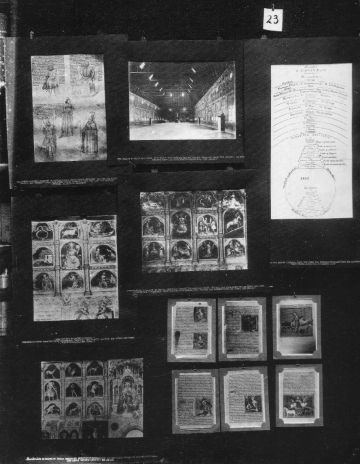 Süditalienisch-arabische Antike. Salone als Riesen-Buchseite zum Zwecke der Schicksalsbestimmung. Dante-Schema. (Fehlt Angeli!).
Antico in versione arabo-suditalica. Il Salone [dei mesi] come immensa pagina di un libro ai fini della determinazione del destino. Schema di Dante (manca: Angeli!).