Mnemosyne Atlas 28/29

Istantanee dipinte

L'esigenza espressiva del movimento come primo spunto della riemersione dell'Antico: dalle scene di vita di corte a Schifanoia (cfr. tav. 27) alle scena di vita contemporanea fiorentina nei dipinti (Paolo Uccello), ma anche nelle decorazioni di mobili e cassoni, veicoli seriali di diffusione dei miti e degli stilemi all'antica.

Painted snapshots
The need to express movement as the first evidence of the re-emergence of Antiquity: from scenes of courtly life at Schifanoia (see plate 27) to contemporary scenes of Florentine life displayed in paintings (Paolo Uccello), on decorated furniture and chests, mass-produced vehicles for the circulation of myths and artistic features 'all'antica'.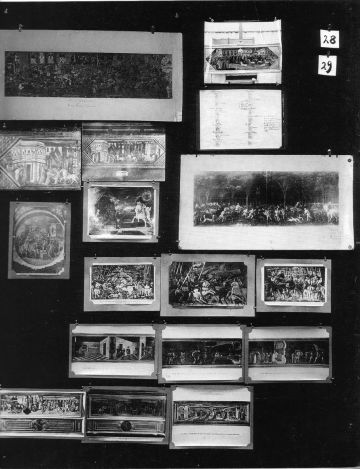 Zeitgenössisches bewegtes Leben (Übergang: 3. Streifen des Schifanoja). Turnier, Gaukler, Rennen, Jagd, Schlacht. Cassoni als Träger dieser Darstellungen.
Vita contemporanea in movimento (passaggio: terze fasce di Schifanoia). Giostre, giocolieri, gare di corsa, caccia, battaglie. Cassoni come veicoli di queste rappresentazioni.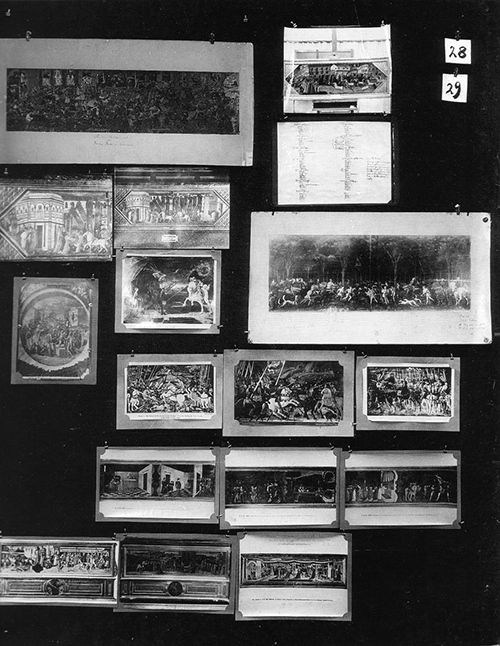 clicca sul pannello per ingrandire i dettagli
click on the plate to enlarge details