Mnemosyne Atlas 37

Irruzione dell'antico: temperamento dionisiaco e scultura dipinta
Il disegno archeologico e la scultura in dipinto (grisaille e monumento equestre) come espedienti per l'irruzione del pathos dionisiaco (lotta, ratto) nell'arte del primo Rinascimento (Pisanello, Pollaiolo). Il temperamento patetico emerge nella pittura mitologica all'antica (Ercole), e non nelle scene 'alla franzese', pur tematicamente affini.
Irruption of Antiquity: Dionysiac temperament and sculpture in painting
Archaeological drawings and painted sculpture (such as grisaille reliefs and equestrian monuments represented in frescoes) used as expedients for the irruption of Dionysiac pathos (fight, rape) in early Renaissance art (Pisanello, Pollaiolo). Emotional temperament emerges in 'all'antica' mythological paintings (Hercules) rather than in scenes 'alla franzese', despite featuring similar subjects.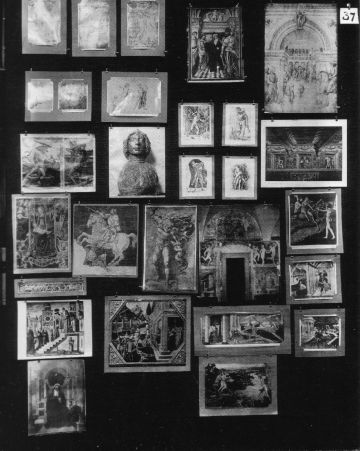 Eindringen der Antike als Plastik. Archäologische Zeichnung (Giusto da Padova, Pisanello). Grisaille = Gemalte Plastik. Reiterstandbild. Schlangenmann (Zeichnung) Herkuleskämpfe (Pollaiuolo): Stich, Rüstung [Relief] statuarisches Gemälde. Hercules u. Nessus = Freiwerden des Temperaments im Zusammenhang m. anderen Raubszenen. Tänzerfries des Pollaiuolo.
Irruzione dell'antico come scultura. Disegno archeologico (Giusto da Padova, Pisanello). Grisaille = scultura dipinta. Statua equestre. L'uomo dei serpenti (disegno) Combattimenti di Ercole (Pollaiolo): Incisione, armatura (rilievo), dipinto scultoreo. Ercole e Nesso = sprigionarsi del temperamento in connessione con altre scene di ratto. Fregio dei danzatori di Pollaiolo.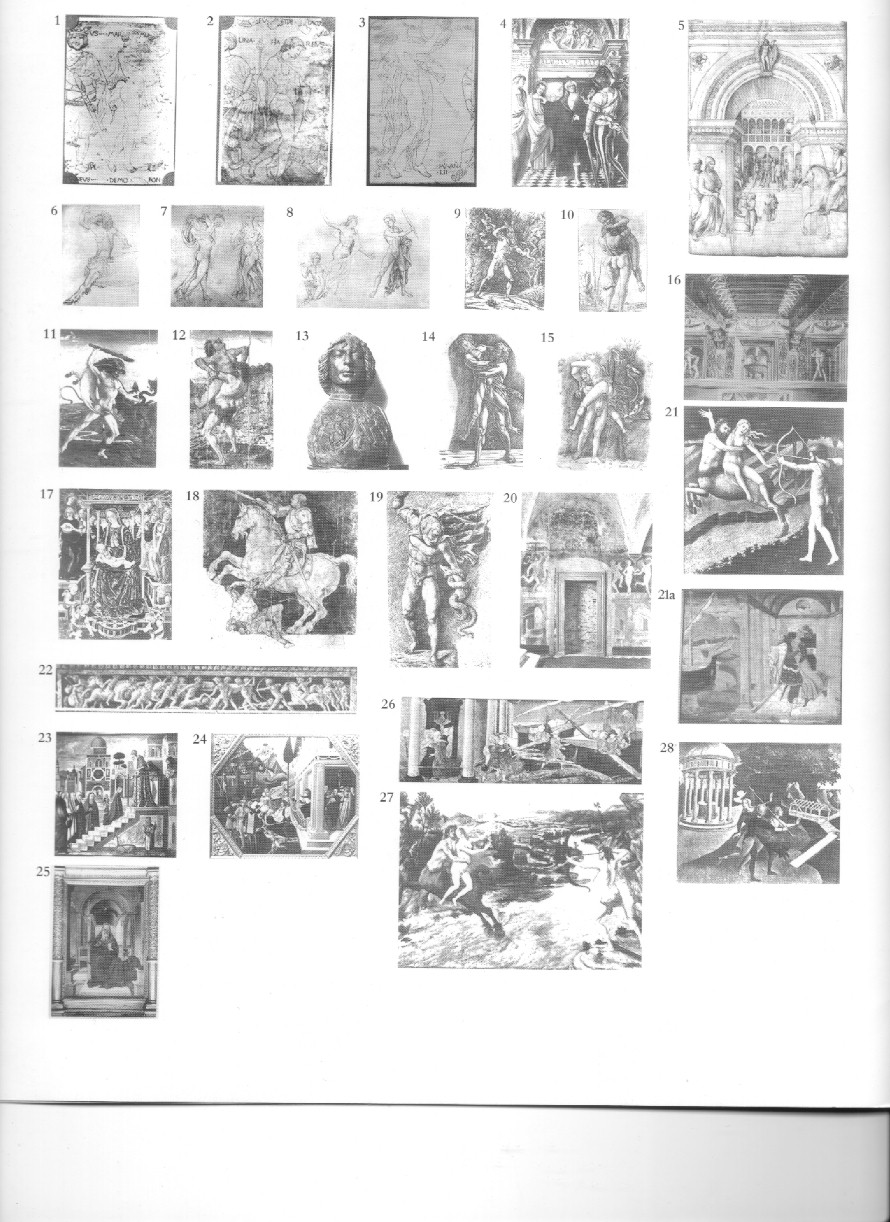 clicca sul pannello per ingrandire i dettagli
click on the plate to enlarge details