Mnemosyne Atlas 39

'Amor anticheggiante' nella Firenze medicea
Le allegorie mitologiche di Botticelli come exemplum dell'ingresso dello 'stile ideale anticheggiante' nell'arte del primo Rinascimento. Espressioni della vita intensificata nelle rappresentazioni all'antica: il tema dell'Amore e della metamorfosi. La figura femminile in movimento: intersezioni tra la figura di Venere (evoluzione in senso anticheggiante del calendario Baldini), la figura di Pallade (in Botticelli e nelle arti minori) e quella della Ninfa (Chloris, Dafne, Abundantia-Fortuna).

Love 'all'antica' in Medicean Florence
Botticelli's mythological allegories as exempla of the introduction of the 'ideal 'all'antica' style 'in early Renaissance art. Intensified life is expressed in representations portrayed 'all'antica': the theme of Love and metamorphosis. The female figure in motion: conflation of Venus (an evolution 'all'antica'0 of Baldini's calendar), Pallas (in Botticelli and in the minor arts) and the Nymph (Chloris, Daphne, Abundantia-Fortuna).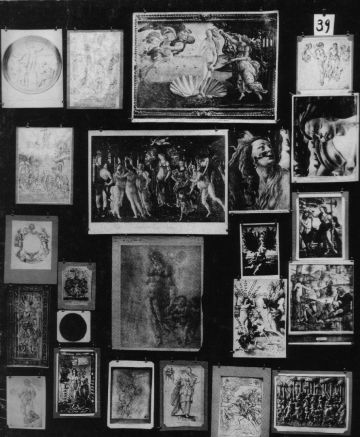 Botticelli. Idealstil. Baldini 1. und 2. Amor antikisch. Pallas als Turnierfahne. Venusbilder. Apoll und Dafne = Verwandlung. Horn d. Achelous.
Botticelli. Stile ideale. Baldini 1. e 2. Amor anticheggiante. Pallade come palio per torneo. Immagini di Venere. Apollo e Dafne = metamorfosi. Corno di Acheloo.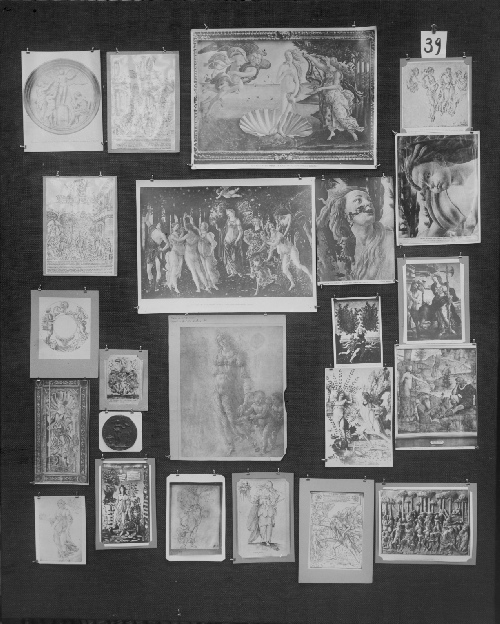 clicca sul pannello per ingrandire i dettagli
click on the plate to enlarge details