Mnemosyne Atlas 50-51
Le Muse a portata di mano
Il cosmo come sistema armonico messo 'a portata di mano' dalle carte. Le Muse dei Tarocchi come figure mediatrici: nel sistema di ascensione cosmica (tra Virtù, sfere celesti e Parnaso); così come nel sistema figurativo (tra divinità antiche – cfr. tav. 6 – 'all'antica' e medievali); ma anche nel sistema di trasmissione delle immagini, tra veicolo 'popolare' – le carte – e creazione artistica – le opere del Mantegna.
Muses to hand
The cosmos as an harmonic system, made accessible by playing cards. The Muses on Tarot cards as mediating figures: in philosophical thought and cosmic ascension (Virtues, celestial spheres, and Parnassus); in the history of images (ancient gods, medieval and portrayed 'all'antica', see plate 6); and via systems for the transmission of images ('popular' media – playing cards – and artistic creation – Mantegna's work).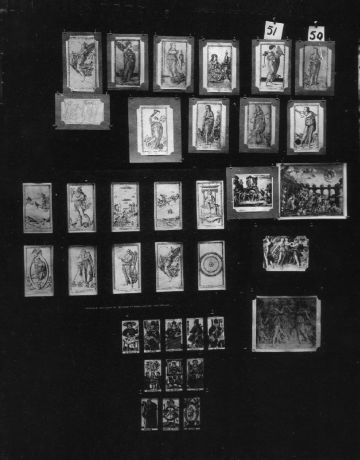 Aufteilung und Handbarmachung. Musen. Tugenden und Laster. Harmonikales System. Auffahrt. Grabtänzerinnen.
Suddividere e rendere maneggevole. Muse. Vizi e Virtù. Sistema armonicale. Ascensione. Danzatrici funebri.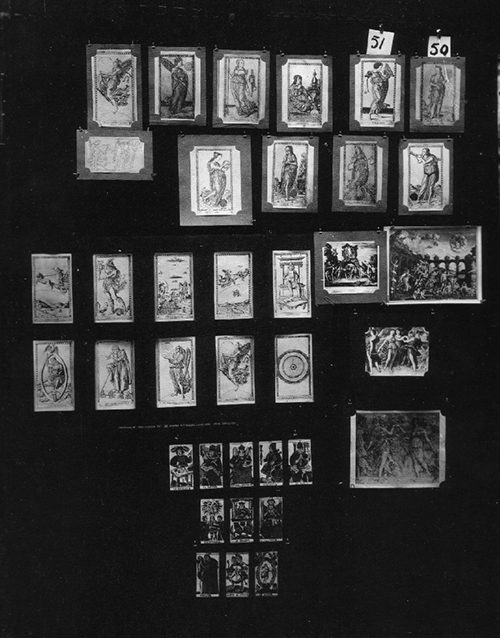 clicca sul pannello per ingrandire i dettagli
click on the plate to enlarge details