Web-mantic. A game of luck and Fortune
Consult the archive of Engramma like a Divination game
by Engramma Editorial Team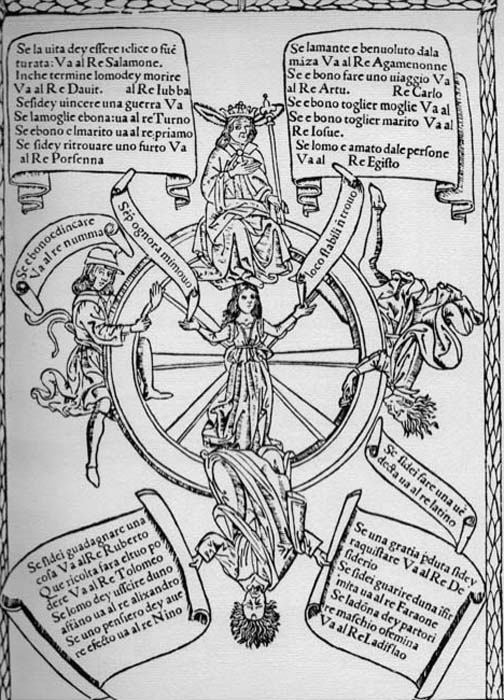 In this issue of Engramma we present a ludus that was first introduced in issue no.92 (August 2011), dedicated to the theme of Fortune in all its meanings and iconographic derivations.
Playing with the Italian Renaissance tradition of "Libri delle Sorti" (Fortune-telling Books) and giving it a twist of modern texts – and art − with oracular qualities, the whole archive of Engramma is presented as a sort of repertoire of answers, available to anybody wishing to consult it. Instead of randomly reading the Holy Scriptures, or following the complex number codes and systems of the works of Virgil or Ariosto – or even just metaphorically toss coins in the hopes of finding some combination for structured knowledge – the reader of Engramma can rely on the great amounts of articles in the 137 issues (to date) of the journal and trust in their great variety of words, in their conceptual consistency and in their network of references and connections that are both necessary and random at the same time.
Consult Engramma' Archive (2000-2016) as you would a "Libro delle Sorti": write one or more key words in the search bar below and then click on "Good luck with Engramma":
§ If a page of the journal appears, your inquiry worked and Engramma has an answer to your question: rely on the article it chose for you, which you can read as a "deposit of suggestions" that you can freely pick from in connection to your inquiry;
§ If instead of a single article you get a list of different ones, you can try your luck again with a different key word or combination of words until a single article appears on the page; unless you wish to open the first recommended article at the top of the list and find inspiration or ides for your research there.
e.g.: "lucky summer" > Engramma will answer!