Mnemosyne Atlas 30

Autorevolezza imperiale e incanto cortese: il Paleologo in Piero della Francesca e in Benozzo Gozzoli
Lo stile monumentale di Piero della Francesca come presa di distanza dal linguaggio cortese dell'arte contemporanea (Benozzo Gozzoli). 
I 'volti' del Paleologo: l'auctoritas dell'imperatore e il fascino perenne del Re-mago orientale.
Imperial authority and courtly enchantment: John VIII Palaiologos by Piero della Francesca and Benozzo Gozzoli
The monumental style of Piero della Francesca as a way of distancing his subject from the courtly language of contemporary art (Benozzo Gozzoli).
The faces of John Palaeologus: imperial authority and the timeless fascination of the oriental king-Magus.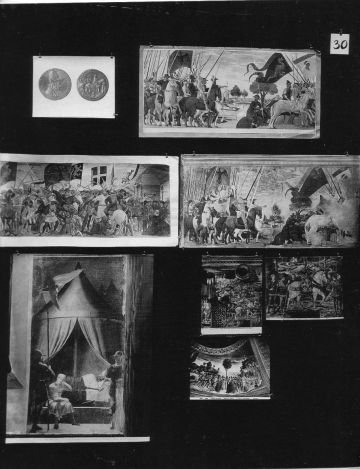 Piero della Franc. Monumentalisierung und Distanzierung. Dazu Gozzoli. Paleologus.
Piero della Francesca. Monumentalizzazione e presa di distanza. Si veda Gozzoli. Paleologo.